Prof. Dr. Rezki Chergui
September - November 2023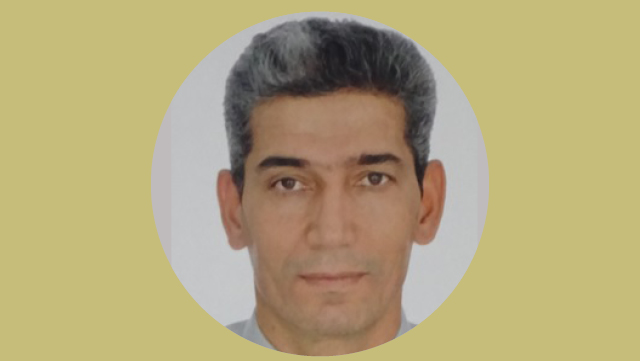 Research Project: L'architecture des palais royaux aux villes Fortifiées Du Maghreb Central à l'époque des Hammadides (Caractéristiques et inventions)
Excavations undertaken in the fortified cities of the Hammādids' dynasty (398-547H/1007-1152 CE), in Al-Maghrib-Al-Awsat (current Algeria), during the 20th Century, particularly at the famous sites 'Ashīr and Kalcat Banī Hammād, have resulted in spectacular discoveries that revolutionize our understanding of the development of architecture in Islamic West
My research focuses on the various phases of the evolution of the architecture commissioned by the Hammādid emirs. Among the themes to be considered are the principal architectural and decorative characteristics employed by Hammādids, innovations in the designing of buildings, the architectural décor such as earthenware tiles with metallic reflection and shards of colored ceramic mosaics, as well as the capture and preservation of drinking water in semi-arid region. In addition, I will explore possible Hammādid artistic influences on the architecture of entire region of western basin of the Mediterranean Sea, and above all the Hammādid contributions to formation of the future regional style of "Andalusian-Moorish art".
I will delve into the ingenious methods put in place by the Hammādid architects to capture drinking water, and the rationalization of its consumption long before Nasrids in Andalusia to irrigate luxurious intermural gardens. I will also analyze the decorative styles employed by the Hammādids, such as the semi-cylindrical niches, which occupied the facades of buildings, and their influence on the decoration of the Norman monuments of the 12th Century in Sicily. Decorative forms and elements, such as muqarnas, cul-de-four, basins, shādirwāns, and honeycombs carved in stone will be discussed, along with the use of luxury materials, such as polychrome marble imported from afar, and manufacture of earthenware tiles with metallic reflection of various geometric shapes, etc.
This research will serve to provide a glimpse into the civilization of Al-Maghrib-Al-Awsat in medieval period.
Profile
Prof. Dr. Rezki Chergui is full professor of Islamic archaeology and museology at the University of Tlemcen since 2015, having previously been Conservator of historical, archaeological and cultural heritage (National Museum of Antiquities and Islamic Arts, Algiers), Doctor in Islamic Archaeology. He is former Associate researcher at CRASC (Centre for Research in Social and Cultural Anthropology, Oran) and other laboratories of research. He has been a visiting professor (Bechar University, south of Algeria), and guest researcher at the Annemarie Schimmel Kolleg, Bonn University. He is the author of ten monographs, as author, editor or coordinator, as well as several articles, book chapters, and publications in national and international meetings and congresses. His research focuses on Islamic history and archaeology in North Africa, particularly the archaeology and civilisation of Al-Maghrib-Al-Awsat (current Algeria) during Middle Ages.
Selected Publications
Chergui, Rezki (forthcoming), "Early Islamic Administration in the Province (Wilāya) of Ifrīqiya under the Governor Hasan ibn al-Nuʿmān (Its Structure and its Organization)", in: Panzram, Sabine ed., How to Govern?, pp. 406-422.
Chergui, Rezki  (2022), "Haqiqat al-naqad al-hammādi al-muktashaf sanat 1908 wa-ṭabicat al-suyūla al-naqdiya al mutadāwala cinda al-ḥammādiyyin fī Al-Maghreb-Al-Awsat. (The Supposed Hammadid's Coin Discovered in 1908 and the Nature of Hammadid's Monetary Transaction in Al-Maghreb-Al-Awsat), in:  Nacir al-eddine Saidouni ed.,  Drāsāt fī Al-athār Al-islāmiya (Collective Book Dedicated to the Memory of Professors Saleh Ben Guerba and Abd el-Aziz Laaradj), Al-mu'allafāt li-nashr wa-al-tawzic, M'sila, pp. 316-329.
Chergui, Rezki (2014), Al-jiraha al-tibiya cinda al-muslimin fī al-qurūn al-wasṭā –Mumārasāt wa-ta'lifā- (Medical Surgery Among Muslims in the Middle Ages –Practices and Authorship-). Al-Ṭabcah al-ūlá. Al-Jazā'ir: Mūfim lil-Nashr.
Chergui, Rezki (2013), Al-athār al Islāmiya bi-Tilmisān –buhūth wa-drāsāt athariya- (Islamic Archaeology in Tlemcen –Researches and Archaeological Studies). Al-Ṭabcah al-ūlá. Al-Jazā'ir: Mūfim lil-Nashr.
Chergui, Rezki (2013), Wathā'iq wa-nuṣūṣ min dhakhā'ir al-turāth al-maghāribi al-makhtut fī cilmi al-makāyil wa-al-maqāyis wa-al-awzān al-'islāmiyah (Documents and Texts from North Africa Manuscript's Heritage about Islamic Metrology). Al-Ṭabcah al-ūlá. Al-Jazā'ir: Mūfim lil-Nashr.
Chergui, Rezki  (2013), "Waṯīqatān marīniyyatān lam yasbaq nashru-humā ḥawla taʿdīl al-mudd al-nabawī bi-madīnat Fās (nashr wa-dirāsa)" (Two unpublished Marinid's documents about the calibration of Mudd al-nabawi in Fez -Publication and study-), in: Annales Islamologiques, 46, pp. 433–452. https://www.ifao.egnet.net/anisl/46/  or AnIsl046_art_21.pdf
Chergui, Rezki (2011), Kitābāt shawāhid wa-qubūr salāṭīn wa-umarā' banī Zayyān al-multaqaṭa min rawḍātihim al-malakīya bi-madīnat Tilmisān (Tombstone's Inscriptions of Ziyyanid' Sultans and Emirs Founded in their Royal Cemeteries in Tlemcen) / Shārl Brūsilār; carrabahu wa-qaddama lahu al-Duktūr al-Rizqī Sharqī. Al-Ṭabcah al-ūlá. Al-Jazā'ir: Mūfim lil-Nashr.
Chergui, Rezki (2011), Muqtanayāt Muthaf Tilmisān (Tlemcen Museum's Collections) / Mārsī Wilyām; carrabahu wa-qaddama lahu al-Duktūr al-Rizqī Sharqī. Al-Ṭabcah al-ūlá. Al-Jazā'ir: Mūfim lil-Nashr.
Chergui, Rezki (2006), "Al-muqarnasāt al-ḥammādiyya wa-wijhāt intishārihā al-muḥtamala fī mintaqat al-ḥawḍ al-ġarbī min al-baḥr al-abyaḍ al-mutawassiṭ" (Ḥammādid Muqarnas and their Probable Extension in the Western Basin of the Mediterranean Sea) in: Annales Islamologiques, 40, pp. 139–153.  https://www.ifao.egnet.net/anisl/40/  or   AnIsl040_art_16.pdf
Chergui, Rezki/ Chenouf, Brahim (2009), "Dirāsa tahliliya li-kanz jadīd hawla al-maskūkāt al-marīniya wa-al-zīyyāniya wa-al-hafṣiya 'ukteshifat hadīthān bi-madīnat huna'in" (Analytical Study about a New Treasure of Marinids Zayyanids and Hafcids Coins Recently discovered in the Huna'in), in: Ages Journal, 18/ 2,  123-139.
 More