Vincent of Zaragoza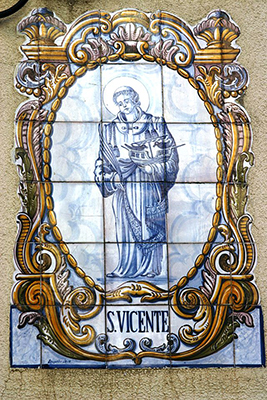 The martyrdom
One of the signature saints of Spain, Vincent's cult acquired soon an enormous following, which is matched by an impressive number of literary sources. The most famous ones date between 4th and 5th c.; they are a long passio, a hymn by the Christian poet Prudentius, and numerous sermons by Augustine. The story, however, boils down to a few common elements. At the time of the Great Persecution, in 304, the deacon Vincent and his bishop Valerius are summoned by the provincial governor Datianus and are ordered to perform the mandatory sacrifice. They both refuse, but it is Vincent, and not his bishop Valerius, who confronts the governor. In fact, Vincent almost reproaches his bishop for being too timid and irresolute. Vincent's adamant reaction angers the Datianus, who sentences him to multiple, increasingly gruesome tortures.
First, Vincent is placed on the eculeus – a rack on which the body of the victim was stretched until the joints were dislocated and bones cracked apart –, but Vincent is unwavering in professing his faith. So Datianus, after scolding his own torturers and having them beaten up, subjects Vincent to even grislier punishments. He gets flogged; his battered body is pierced with blades of scorching iron and burned with drops of melting lead; salt is sprinkled on his recent wounds. But, even then, Vincent remains imperturbable, eagerly anticipating his nearing reward in heaven. Datianus is at a loss: he orders that Vincent be thrown in prison; but, before, the cell's floor shall be covered with shards of broken vases, so that Vincent's torments continue into the night. But instead, as soon as the guards of the prison fall asleep, a bright light is seen in the cell. Soft tissues appear miraculously, on which the martyr reclines. In some versions, an angel appears, comforting Vincent as he awaits his death – or rather, his new, true life in the glory of heaven.
As soon as the news of Vincent´s peaceful passing reaches Datianus, he is consumed by an even deeper rage and commands that Vincent's body be abandoned in an open field, where it will be torn apart by wild beasts. However, a raven comes and guards Vincent's body, protecting it from bigger, more threatening animals such as a wolf. Seeing that the saint's body cannot be defiled this way, Datianus orders that it be tied a heavy stone and thrown in the open sea. Instead, the body is preserved miraculously and carried to the shore by a gentle stream, until it is found and becomes object of veneration.
Violence and gore
Both the long passio and Prudentius's hymn tell a dramatic and compelling narrative, which revolves around a continuous confrontation between Vincent, the tortured martyr, and Datianus, the brutal governor. In the passio, Datianus is referred to as Satan himself, i.e, the deceiving serpent of Genesis, first in Vincent's very words (5: Iste est enim ille venenatissimus serpens qui in protoplausto gloriam, hominibus traditam, quam ipse non meruerat, invidit, "he is that most poisonous snake who envied the glory given to mankind in the first man [viz. Adam], glory which he himself did not deserve"). Every time he realizes his attempts at breaking Vincent's spirit are frustrated, he quivers with rage and hisses with a snakelike voice: any aspect of humanity is deformed (12: tota facies humanitatis inversa). He is throughout referred to as diabolus (7, 9, 12, 13), the Devil himself. Therefore, the confrontation between Vincent and Datianus is actually a fight between a holy martyr and the Devil. And since the Devil, "the prince of this world" (John 14:30) appears in the person of a Roman high-ranking officer, the passio suggests an identification between civil authorities and evil, pagan temptation. In other words, the passio bears the trace of the opposition of Christian communities at the time of the Great Persecution towards Roman imperial authority.
The more violently Datianus rages against Vincent, the more serenely Vincent smiles, adamant in his unwavering faith. As a result, it is Datianus to be tortured by his blind anger. Vincent mocks him: "while you punish me for my faith, it is you who get punished more harshly" (7: dum devotionem meam punis, gravius ipse puniaris). Vincent's body may be tormented, but his soul remains unbroken. Instead, Datianus truly torments himself (20: in se poenam sentit, dum in famulum Dei saevit, "he feels the punishment on himself, while he rages against God's servant"). Therefore, true torture is not the one to which the body is subject, but the soul: the inner punishment of Datianus is more effective and more acutely felt than Vincent's physical martyrdom.
Secondly, both the passio and Prudentius' hymn show a distinctly late antique taste for gore and macabre details of corporal torture. For instance, Prudentius paints a graphic description of Vincent's punishments: the eculeus stretches his body "until the bone structure, torn asunder, crack apart piece after piece" (112-113: compago donec ossium / divulsa membratim crepet); blades pierce his body, to the point that "his liver throbs through the holes opened by the wounds" (115-116: ut per lacunas vulnerum / iecur retectum palpitet). This vivid rendering conveys the cruelty of Vincent's physical torture and, by contrast, enhances his virtue and his reward in heaven.
Vincent and victory
At the same time, Prudentius describes the martyrdom as a victorious battle fought by "Christ's soldier" (116: miles Dei) and, ultimately, as a triumph that brings him to heaven (1-4). This aspect of victory is also emphasized by Augustine, who repeatedly establishes a link between Vincent's name and the notion of winning (vincere). Prudentius's hymn ends with a prayer to Vincent: he is invoked and asked to assist the faithful with the same virtuous strength he showed in his passion (561-575). Vincent's martyrdom tells the story of a victory in heaven obtained by means of passive and serene resistance in face of spiteful and self-destructive violence. It is no surprise that Christians took him as a model of heroic conduct, from the very beginning and long after the end of the persecution. 
Lorenzo Livorsi, Dr. (University of Bristol)