Isidore of Seville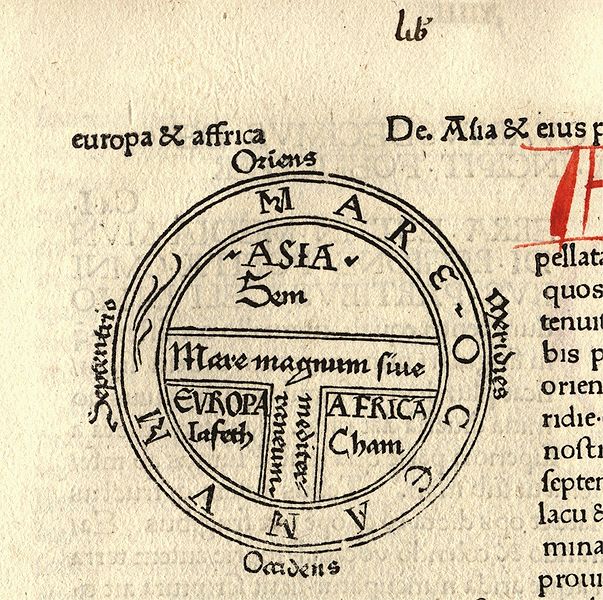 Isidore is inescapable. Even for those who have nothing to do with the (never-to-be-overlooked) domain of this bishop canonized in the late 16th century. No, Isidor has not just made it into the municipal arms of Andalusian Sevilla – or, to be more historically appropriate, Hispalis in the Baetica – and bears the distinction of being the only Church Father to adorn the emblem of the local football club. Even lending one's name to both a moon crater and an Antarctic island is an honour some other great scholars may share. Yet serving as patron of the internet, which St. Isidor has done since 2001, is surely a unique feature that points far into the 21st century. And certainly, this responsibility for a global research tool could only have pleased the linguistically curious compiler of reference works that were put to frequent use even in his own lifetime.
Isidor may have died 1385 years ago, on April 4, 636 CE, yet his varied works comprising, inter alia, texts on natural-scientific, grammatical, historical and theological subjects were received supra-regionally soon after his passing and remain preserved as copies in over a thousand manuscripts to this day. It is the influential, though uncompleted, work of his old age – the Etymologiae or Origines – that particularly qualifies Isidor as one of the most-read authors of the Middle Ages. As an encyclopaedia compiled with the aid of a rich library, it held "de facto a monopoly position into the 12th century" (Udo Kindermann) and must have had a not-insignificant effect on the spread of a unified Latin written language in the monasteries of Western Europe. That Isidor additionally reformed the Hispanic clergy's education system and organized Church Councils like the Fourth Council of Toledo fits the image of the practically oriented poly-historian.
Isidore usually dedicated his focus to the Iberian Peninsula, which offered post-ancient Spain many chances of appropriating – and sometimes misusing – both his person and his oeuvre. Restrictively interpreted as a panegyrist of the Visigoth kings, later rulers treated him as a welcome pioneer of national(ist) ideas and aims. Linked to the veneration of his reliquaries – strewn between León, Murcia and Oviedo – but also separable from them, Isidore was for a time formed into an important figure in the context of the Reconquista. In these cases, the opened book usually so tightly fused to his iconography had to make way for the sword.
Yet even short examinations of several of his texts suffice to give us an idea of how Isidore, more likely to be found carrying a book in his own lifetime, directed his gaze beyond the Iberian Peninsula – particularly to the Mediterranean coasts lying opposite to the south. In his hagiographical-biographical collection De viris illustribus, it is the case examples from Africa, alongside the Hispanic cases, that jump out particularly strongly. Not just philological researchers but Isidore himself must have been well aware of how strongly much of his (Christian) body of knowledge depended on sources from Carthage and the surrounding areas. Accordingly, he complements his treatments of his fellow countrymen Prudentius and Orosius with those of the North Africans Tertullian, Marius Victorinus, Augustinus and Martianus Capella. Critical attention is usually devoted to Isidore's historical work's interest in the Visigoths, whose conquests he paints in friendlier colours than those of the Suebi or especially the Vandals. But even the overview he provides in the form of the Historia Gothorum, Vandalorum et Suevorum encompasses the not-to-be-taken-for-granted arc from the Spanish Atlantic coast over both sides of the Western Mediterranean. This bishop from Carthago Nova born in the early 7th century was obviously still well aware of Mauretania Tingitania, which since Diocletian's time had lain "trans freta in regione Africae" (Etym. 14,4,29) as the sixth Hispanic province, and which allowed him transition from European geography to that of Libya. That Isidore used the Hispanic calculation of eras to date his North African settings as well may originally have been the result of his depreciating the Vandal kings, but ultimately helped research into both regions to a unified chronology. And last but not least, Isidore gives the remarkable assessment – as so often probably influenced by the similar sounds of individual terms – of a shared ethnogenesis between the (Visi)Goths, Getae and Gaetuli. He writes that the latter – here understood as Moors – were marked by their nomadic lifestyle and to be situated in desert regions and, in the same breath, calls them Arabs (Etym. 9,2,14–15). Of course, the latter ethnicity's potential remained concealed from Isidore: The Battle of Yarmouk, with which the Islamic armies achieved lasting control over Syria, did not occur until months after his death. Yet he already had on hand an explanation for the early emergence of oriental tribes in the Western Mediterranean region: They were, he claimed, the descendants of the retinue Hercules took with him on his campaign to Spain (Etym. 9,2,119–120).
Such mythical extrapolations are less than satisfactory today – and the RomanIslam – Center for Comparative Empire and Transcultural Studies wants to do its part in offering better alternatives. But it is questionable whether the narratives recent research has begun to question would have survived without the toil and afterlife of the Hispalensian bishop. This may be one more good reason to remember Isidore of Seville in this context.
Dominik Kloss, M.A. (Universität Hamburg)